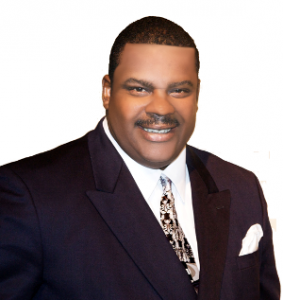 Winston James left his home at the age of 17 and went to live with his aunt in the Fourth Ward of Houston. There, Winston was introduced to drugs and crime. Not long after, he became homeless and remained homeless for a little over 6 years. He worked as a dishwasher along with some other jobs until he was arrested. He has been shot, stabbed and beaten. Throughout his tumultuous young life, Winston went in and out of the hospital many times. He has had eight auto accidents and eight surgical procedures. It was during recovery from one of these procedures, that Winston had a vision from God. Right then, he realized he was going to have to change his ways, if he was going to live. Winston has lived a life that no one should repeat.
Pastor James and his wife, Betty, have 5 children. God called Pastor James into the Ministry in 1988. In 1995, Pastor James was Ordained through Victorious Living Christian Center, formerly known as Agape Christian Center. He lives to show and teach others that, by the power of the Holy Spirit, they can repent, find Jesus Christ and live a long and prosperous life. He is the Pastor of The Ministry of Jesus Christ Church, and the Founder of The Life Center for the Homeless.
Pastor James' vision to help homeless individuals came to pass when the first Life Center opened at 817 West Dallas in Houston.  For seven years, in the nineties, Pastor Winston James was blessed with his own Gospel television Program. He started this program with the help of Brother Elred Thomas, who blessed him with the airtime for the Program. Pastor James' Program was named   "Something Different For YOU."   The Program aired on Channel 22 KLTJ. Pastor James went on to have two area radio Programs on KJOJ and KWWJ. In the year 2000, Pastor James took his television Program   "Something Different For YOU"   to the streets of Harlem, NY and was honored to become a new member of the New York Ministers Convention.
Over the years, Pastor James has been the recipient of many awards for his wonderful work in the community. He was invited to the White House in Washington, DC in 1997 and he received the Jefferson Award for Excellency in Community Service. Also, in 1997, he received the Pinnacle Award and went on to receive an award from the Caring Institute. In 2005, Pastor James was a member of the Katrina Housing Task Force. In 2014-2015, Pastor Winston James was a part of Mayor Annise Parker and Mayor Pro-Tem Ed Gonzales' Homeless Alliance. On January 1, 2016, Phase II of Take it to the Streets Ministries was launched. The objective is to monitor and assist the homeless that are camped out under bridges and overpasses, or living in the woods. In 2016, The Life Center's Heaven's Kitchen and Cafeteria became a reality. The list of achievements go on and on for this doer in the Houston community.
Today, Pastor James has his supportive and loving wife, Betty James, and also a Team of advisors and many volunteers to work with him at The Life Center for the Homeless. The many blessings that have been bestowed on The Life Center have enabled them to move from 817 W. Dallas to it's current Campus location, 4516 Old Yale St., Houston, TX 77018. In response to God's Love, The Life Center is a Kingdom Post; a place that would bring Glory to our Lord Jesus Christ and to provide excellent care for the homeless, needy, poor and destitute and to those who need help.
Currently, Pastor James is growing and expanding The Life Center Vision. To his credit, he has written, produced and directed three Christian documentary films pertaining to homelessness, four Gospel Albums and is launching the "Something Different for YOU" series. Also, there is the "Metamorphosis Project." Through this outreach Program, those people who are better known as the street walkers of our communities are Ministered to. Many of them are drawn to rap/hip-hop and R&B, so special Gospel music was written for them. We perform Concerts on the streets, parks, apartment complexes and etc…  In addition to our excellent care for Houston's most homeless and destitute, we also touch the lives of the community.